Bethesda celebrates another important anniversary in 2021. Five years ago, Vedder Terrace, an intentional community in Chilliwack, opened its doors, offering affordable, flexible and individualized housing options.

These past 5 years have been a success. From the vision to what it has become, can scarcely be believed. Dawna Braun, Director of Services, was instrumental in getting Vedder Terrace off the ground. She says "It has been truly an honor to be able to be a part of Vedder Terrace from the dream, development, move in process, ongoing changes, fundraisers, to ongoing supports- it has been such a personal blessing to be in this role to walk alongside people in achieving their dream of independence in a safe and supportive environment."
Vedder Terrace is an intentional community.  People, with and without disabilities, living in an intentional community choose to share life together. They may live independently in their home or receive support from Bethesda staff. Seven people moved in at the start in 2016. For some, it was their time living away from their family home. Within days, people got to know each other, shared a community meal, and soon embarked on a joint project to build a community garden. It was the start of a community. 
Since those first days, the community has grown beyond expectations. It has become a full and rich community of people who truly care for each other and provide such natural supports. There are now 21 people living at Vedder Terrace and 26 people participate in services at Vedder Terrace, including Community Inclusion. Residents live their lives, pursuing their interests and goals, but keeping connected with people is an ongoing and intentional effort. 
The staff team is very diligent and aware of the importance of strengthening community involvement among the residents. As Jane Rice, the manager of Vedder Terrace, says, "people can be isolated in apartments, even in a community like this, so you have to be intentional in building and keeping that community involvement." One of the ways they do that is through three weekly community meals and common projects. Their most recent project was building a workshop to learn and practice woodworking skills. They've learned to build
 planters, tables and the ever-popular squirrel picnic tables.
The people of Vedder Terrace have embraced their role as good neighbours. They regularly participate in local events. Over the years they have taken part in Canada Day celebrations, volunteered at the local food bank and collected money for the Christmas Kettle. They also host visits from youth groups, including from local schools, that collect donations on their behalf. Dawna says, "The heart for Chilliwack is deep – from road clean up, to meeting with the mayors, youth group nights or service projects, involvement in the school communities – everyone is always wanting and willing to give back and to care for others and "show off" their homes and community. Vedder Terrace is that place where you feel God's presence in a real way through those that live here."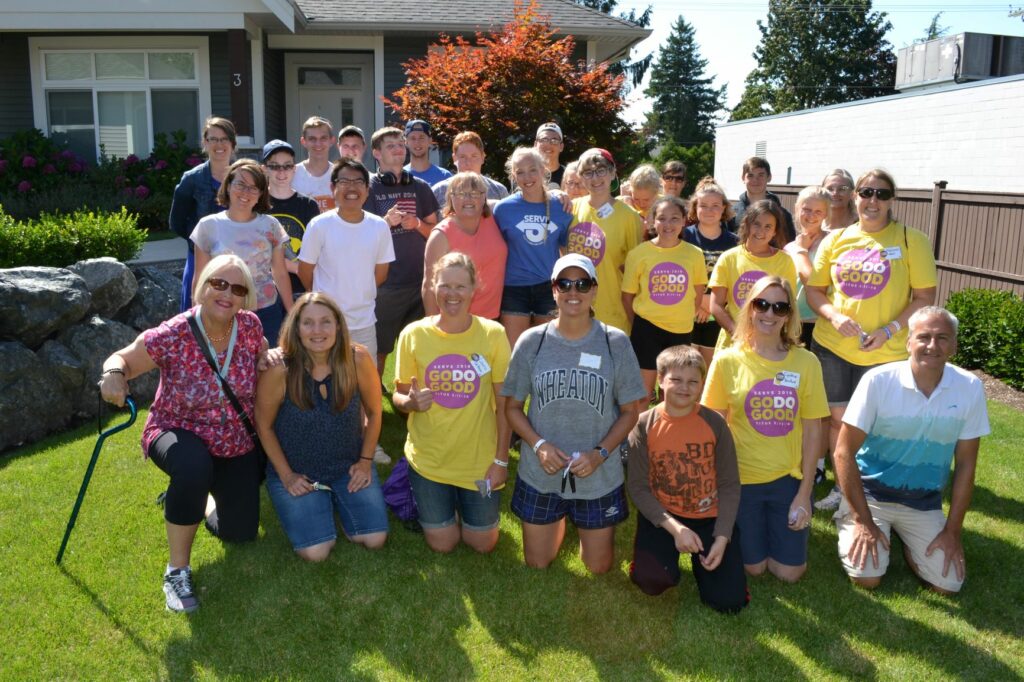 The impact of living in such a supportive and empowering community is profound. Jennifer, who's lived here for over one year says, "Since being here I have made friends, found support, learned how to cook, had freedom to make my own choices". And Mary-Ann agrees "It is just an amazing place to be in community with other people. Support is just a phone call or walk away." Dawna adds, "It has been incredible to see some of those who have lived here learn and develop skills and further their independence to move into other living arrangements where they can achieve new goals."
Giving back to community
Jack, James and Jaquie are 3 Self-Advocates who chose to give back to their community in Chilliwack by collecting for the Salvation Army Kettle 2020 campaign.
Participating in community events
Residents were there for Canada Day celebrations in Chilliwack.
A community of joy
Such joy, care and genuine love for one another, accepting of everyone - this has been a dream for so many.
Working together on common projects
Residents got together to build a wood-working workshop. A great way to build togetherness.
Support from the community
Local schools support the Vedder Terrace community with fundraising campaigns, work parties and Thanksgiving Day food donations.
Creating inclusive community
Residents are so proud of the community they've built and welcome visitors and guests.
Inviting friends in for games night
The community at Vedder Terrace often invites people over to visit (when we're not bound by COVID restrictions). Games night is a fun opportunity to interact and get to know people.