Whiling Away the Hours with a 9000 Piece Puzzle
Darlene is a super-puzzler. We've known for years she can easily finish off 500 and 1000 piece puzzles. But this summer she's taking that to a whole new level. She is now tackling a 9000—yes, 9000—piece puzzle.  
One of the support workers at Clearbrook Home where Darlene lives brought the giant puzzle in to show Darlene, knowing how much she loves working puzzles. The staff member had ordered it for herself and decided it was too big for the space in her home. As soon as Darlene saw it and her eyes lit up. In a normal summer, Darlene would attend camp or do other trips. But since the pandemic has limited her summer adventures, she thought doing a puzzle would be very exciting. When asked how long she thinks it will take, she replied "til summer".  The staff was thinking that too – more precisely, 'til the end of August.
We've put up a calendar with the months of summer on it and are marking the days she works on it.
Is she worried that she won't finish it?  "No!" she says emphatically, "I KNOW I will finish it!!!"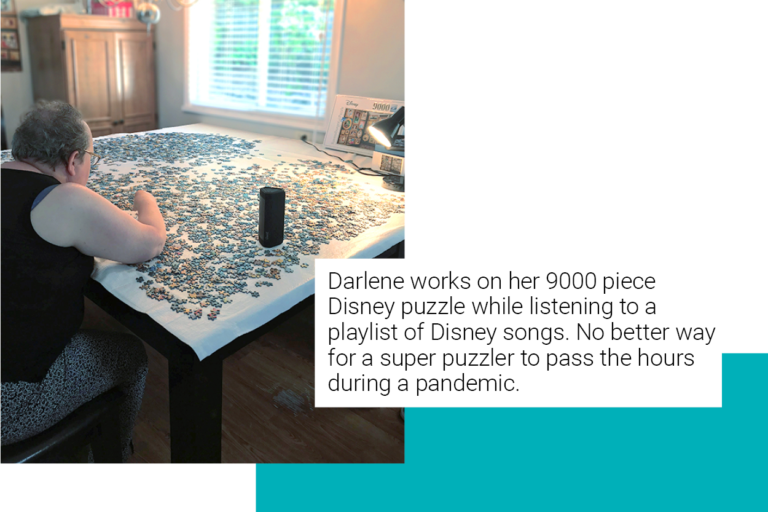 Darlene does 1000 pc puzzles on an ongoing basis. In fact, with the GREAT PUZZLE SHORTAGE that has been happening the last few months, it has been extremely difficult to find new ones for her to do. Staff members have been bringing in their own puzzles for her to keep busy. 
The best part of this new puzzle—it's DISNEY!  Last year, Darlene went to Disneyland and saw her favorite Disney characters face to face. She loved the rides, adored the characters – staff made a Shutterfly book of her trip when she returned so she could reminisce. 
So a 9000 piece puzzle of a Disney Museum of character portraits was too good to be true. The picture Darlene will be piecing together is a collection of framed portraits of all the Disney Characters. And while she works on it, staff make sure they accompany it with DISNEY MUSIC! 
For a big Disney fan like Darlene, it couldn't get better.


Story written by Marilyn Taylor