"My path to Bethesda started way back when I was a child." Darlene Davy, Director of Services, reminisces on her journey.
Learn more about a career at Bethesda
Bethesda was a name always known in my house. My older sister Sherry, was supported by Bethesda for many years. She loved the summer camps. Going to camp was all Sherry could talk about the whole year leading back up to it, so we knew that she enjoyed it! I did too, honestly. As the little sister, I would wait all year for my sister's summer camp time to come, because then I could be the only child for a short time while she was away!
I remember my sister's first time going to camp Bethesda. Back then, it was held on Thetis Island. I remember my mom crying as we left to get back on the ferry and drive home. Not soon after the drop off day, you could see my family relax. Respite was a rare and precious time for us.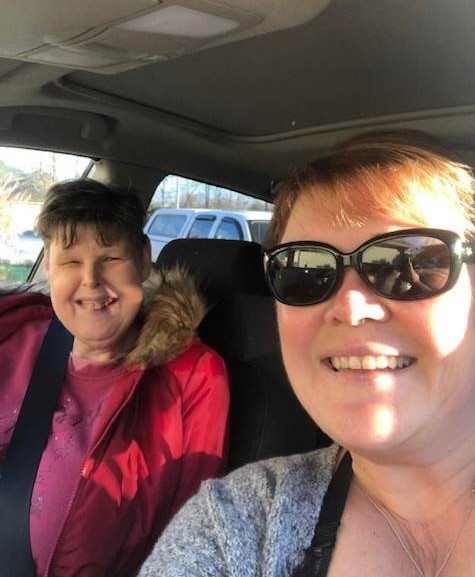 Darlene visits with her sister Sherry regularly. Here, they are delivering Christmas gifts to Home Share care-givers in 2018.
During the rest of the year, Sherry always went to the Friday night coffee houses that Bethesda hosted. Even as a young child I sometimes participated in them. So many early memories I have with this organization. Somehow, I always knew that I would work in this field, as Bethesda had such an impact on our family.
So, many years ago when Bethesda opened a new home in Chilliwack, I applied, and was hired as a support worker for a young teen named Jas.
I remember meeting Jas for the very first time at one of our training days. I sat on the floor with her, she smelled my hand, and although she didn't speak, I remember my mom-heart having immediate feelings for her. The first few days were difficult for her – and me. Moving into a new home, with new people around her, was a big transition for Jas. For me, it was learning a brand new job. I was on shift with Dawna, the Regional Director, the first few nights on the awake night shift. We got through the transition, but I will never forget those nights! No one got any sleep!
Soon after being hired, I became the assistant manager at Jas's home. I worked at the home on Coote Street in Chilliwack for 1½ years and then left to raise my family.
As relationships are important to me, when I saw Dawna again almost six years ago at a Transition Fair, we naturally connected. After catching up on our lives over the years, she brought to my attention a new position Bethesda was looking to fill, a Home Share Coordinator. I was working for another organization at the time and wasn't looking for a change. But I felt a stirring in me, so I proceeded with the application process.
I got the job and here I am… A few years later when a Director of Services position opened up, I challenged myself to apply. I knew that the Director position was my end goal, although it presented a couple of years sooner than I anticipated.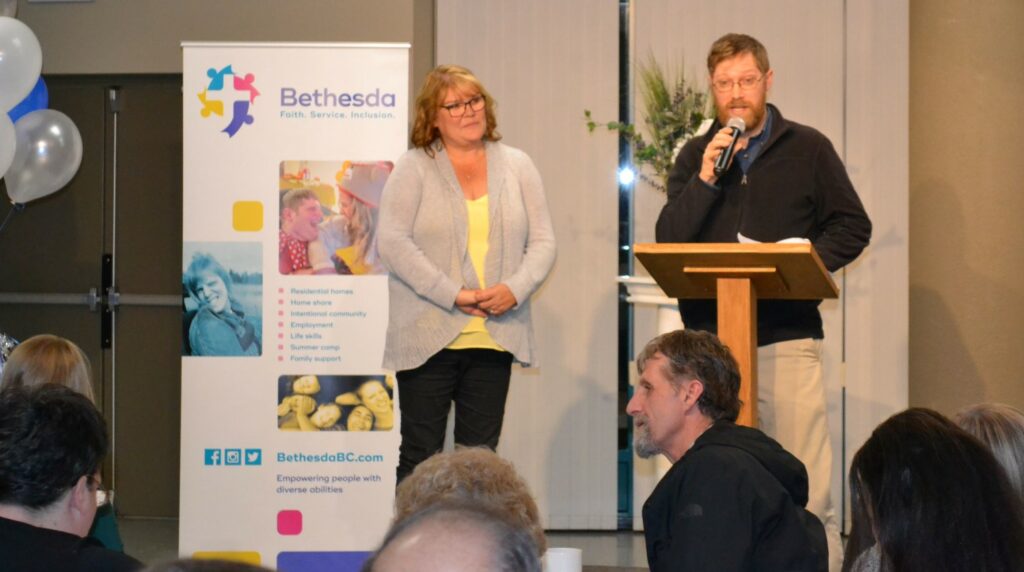 In 2019, Darlene received an employee recognition award for her 5 years of service from supervisor, Dan Steenburgh.
Learn more about a career at Bethesda
About the Author. Darlene is a Director of Services where she supports several staffed residential homes in the Fraser Valley, and is an enthusiastic and inspiring leader of community inclusion services, recruitment, and Bethesda events and community relations. Her artisanal baking talents are greatly appreciated around the office as well as more broadly in her personal Instagram community.