Providing crisis support to families is one of the things we offer through our Family Support Services. This story brings to life how impactful that support is and shows the depth of Family Support, from a listening ear and understanding heart, offering advice and guidance to problem-solving.
The truth that families know all too well, is that it often takes a crisis to access much-needed services. The reality is that government funding for people with diverse abilities and families is limited. There isn't enough funding available to meet the demand for services so people go on long wait lists as government prioritizes based on need. And so it was with Rietta and Wes. As parents of a young woman with diverse abilities dreaming of the future for their cherished daughter, Rietta and Wes had been planning for a couple years the day that Molly would move out of the family home. Molly, now 22, has Down Syndrome and her parents were very hopeful to find their dream home for their daughter. After talking with Joyce at Family Support Services they looked at options and devised a plan.
They envisioned a home for Molly that she would share with a compatible housemate and with 24/7 support. In this home, she would continue to mature and gain independence and expect to make it her home many years. They knew such housing was a challenging ask for Community Living BC, the agency that funds services, but they were prepared to advocate and wait for the right housing opportunity.
What they didn't expect when they started this process in November 2019 was a pandemic would soon disrupt their lives and restrict them in ways they couldn't have imagined.  
As with so many others, the stress and fear of the pandemic weighed heavily on Rietta. Molly, who in normal times, was active and involved outside the home, was suddenly isolated at home in March. "Up until then, it had been healthy with her living at home. But now it was just us sitting in a room looking at each other." With everyone stuck unnaturally at home, Rietta's mental health deteriorated with the growing anxiety.
By August the situation was critical, Rietta was struggling and in her own words "was totally falling apart." They needed to find a home for Molly and soon. Throughout this difficult summer, Joyce Vander Hoek, Director of Family Support Services, stood beside Rietta through offering emotional support. She spoke to Rietta and Wes about Home Share as an option for Molly. She walked them through what Home Share could offer a bright young woman like Molly. They agreed to consider Home Share and CLBC responded to the crisis with funding.
Joyce arranged with our Home Share services to find a suitable Home Share match for Molly. At that same time, a new family had stepped forward to become Home Share providers, bringing with them direct experience supporting people with diverse abilities.
Rietta and Wes met with the Home Share family, a couple with 3 daughters around Molly's age. Her and Wes felt they shared important values with the family, and the things they needed to hear naturally came out in the conversation. They left the meeting reassured that the family would provide love and guidance, and opportunities for Molly to mature and grow as an adult.
The entire transition went smoothly, quicker than it would in more typical times, and by November Molly had moved in with the Home Share family.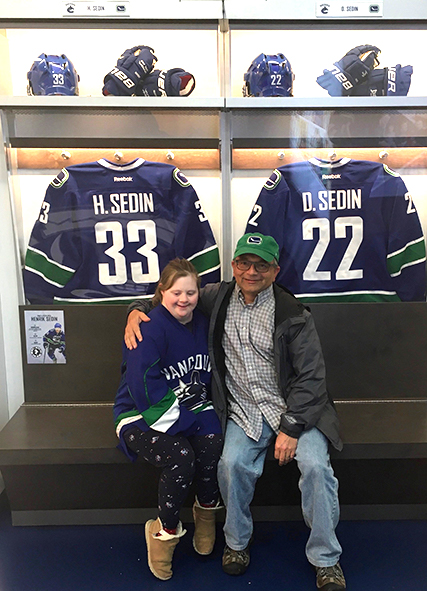 Molly and her dad, Wes, share a love of sports. Pre-pandemic, they enjoy a moment of togetherness honouring their favorite Canuck hockey heroes.
A few months later and Rietta is more relaxed and peaceful, and feeling more hopeful. Molly is enjoying engaging with the family and with young women her own age. Rietta is looking forward to the post-pandemic day when she can get together with her daughter again when "her and I can go do things that mothers and daughters would do.'
Rietta and Wes had a vision they had to let go and yet God provided an answer better than what they could have imagined. "It felt like we were waiting, waiting, waiting, but Joyce reminded me of this often, it's actually God we're waiting on."
Rietta reflects back and says "It was a big decision made under terrible conditions, yet to see what God brought out of the ashes was really something."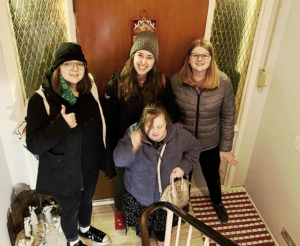 Molly heads out for a coffee with Jill, Annika and Jordyn. With the 3 daughters being her own age, Molly was brought along into the life of the Home Share family naturally. Watching TV, doing fashion shows, colouring, doing puzzles, going for coffee, now she has someone to share these experiences.