Bethesda reached a major milestone this year, a milestone years in the making. Partnering with Bethesda Christian Foundation, Bethesda built and owns its main administrative building in the heart of Abbotsford. But as we will see, it is so much more than that.
It all goes back to our values: prayer, interdependence, self-advocacy, sanctity of life, inclusion, valuing relationships and stewardship. These values guide everything we do, from our decisions, our actions, and how we conduct ourselves. Our new provincial office building embodies our values. At first glance, it's just another provincial office building – a place to work, to hold meetings, make decisions and store important information. But if you pause and take a deeper look and you will see that the building reflects our values and thus reminds us to live out our values day to day. 
Starting with prayer. The new building wouldn't have been possible without prayer. It was a decision that started with the board of directors over seven years ago. The building was born through prayer and listening for God's wisdom and direction. A building, the new home of Bethesda, now stands open, welcoming prayer as a part of our daily business.
Interdependence. As part of the body of Christ, all people are equally valued and contribute to the mutual growth and wellness of the entire body. The new office is a workplace that encourages employee growth so each can bring value to their role and the community we are called to be a part of. The new office makes this happen with office features chosen to enhance each staff member's role, and to create natural occurring hubs for informal interactions, intentional meeting rooms, and a spacious, welcoming lunch room and outdoor patio space. 
Inclusion. The building is intentionally more than an administrative office. A must-have was a welcoming space for the people we support and families. The vision was of an organizational hub that invites our community in to experience inclusion and belonging for all. Our new building has designated space for community inclusion services, employment services and for families to meet in a warm, inviting atmosphere. Space designed to be used by people we support creates a sense of belonging and empowerment to grow and use their God-given abilities and skills.
In this building, which was designed for inclusion and interdependence, we can live out our belief in each other's contributions and abilities, bring gratitude and blessings with prayer, cherish the sanctity of life of all people, inspire self-advocacy, welcome people with diverse abilities into a community where inclusion and belonging are at its core,  and care for and grow the resources God has entrusted to us.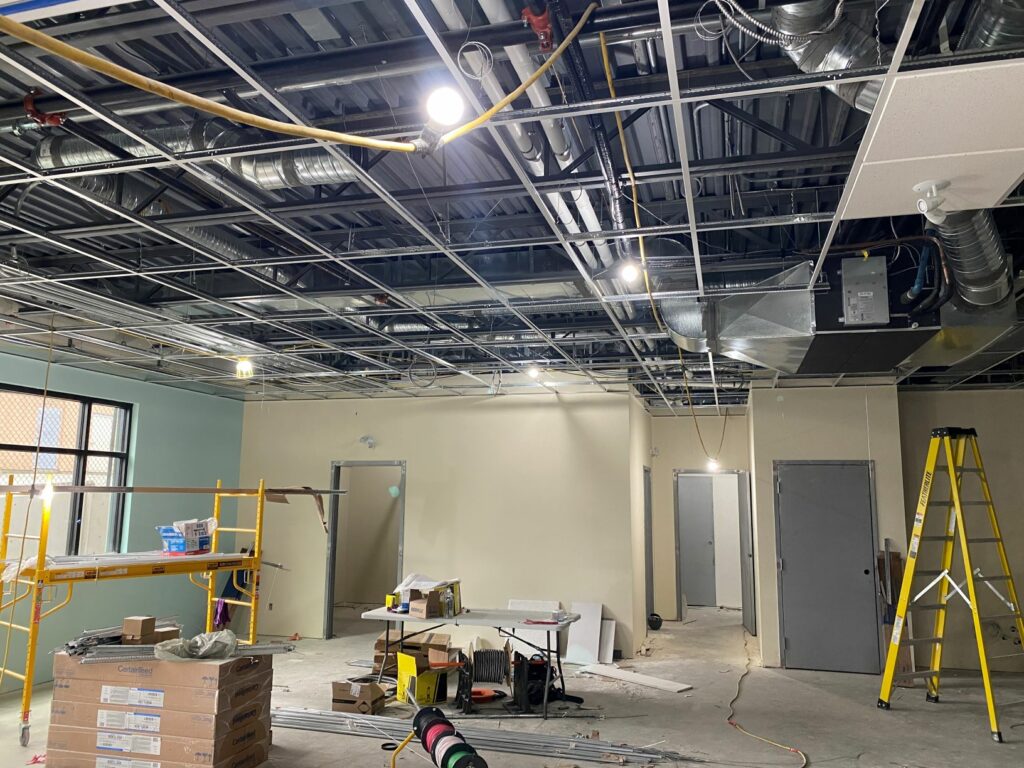 Self-Advocacy. "Nothing About Us Without Us." The phrase captures the desire of self-advocates to make decisions about their own lives and to contribute to their community. The building itself acknowledges the strength of their voice: from the width of the hallways, ramp entranceways, accessible washrooms, lifts, elevator access, gathering spaces, and priority parking spots. These built-in features remind us daily that our calling is to serve and empower each person we support. 
Valuing Relationships. Relationships that are built on trust and respect. A building that is warm and welcoming and offers assurance of confidentiality with its modern systems, secure processes, and privacy designs. Meetings take place behind privacy screens and confidential conversations in sound-proofed walls. From that place of personal security, people are free to be vulnerable and relationships can blossom. 
Stewardship. We are responsible to care for and grow the resources God has entrusted to us. Through 50 years of careful financial stewardship, Bethesda has established its resources. The funding arrangements for this building were made with the Bethesda Christian Foundation to avoid interest costs and save expenses related to ever increasing costs of leasing office space. These arrangements have made this building affordable and avoided Bethesda going into mortgage debt. 
Sanctity of Life. All life exists for God's purposes and all human lives are equally sacred. How can a building possibly embody such a fundamental value? From the photographs that are displayed, the artwork, to the spaces that are intentional in nurturing growth and finding solutions to seemingly impossible challenges so that people can live as God intended them to. Our building encompasses our belief that every life is blessed by God and must be preserved and nurtured. When you walk into this building, you are walking into a space that values all lives. 
We are excited to start on our second 50 years in a new office that so deeply embodies our values. It is our prayer that these daily reminders will enable us to stay true to our values and vision of communities of belonging where people of all abilities are valued and empowered to share their God-given skills and abilities.  
An opening day celebration will be held on September 16, 2021. Staff will be moving into the new building in the last week of September.