Providing home share is a rewarding choice for people. We recently talked to Marnie, who has been a home share provider through Bethesda for 22 years, to find out what it has meant to her and her husband, Mike, to share their home with someone with diverse abilities.
Marnie and Mike support two people with diverse abilities in their home, Marilyn and David. She shares her experience. "My husband Mike and I have been home share providers to David for eight years. We also share our home with Marilyn. I got to know Marilyn over 25 years ago when I worked at the group home in abbotsford where she was living. I became close to Marilyn over the years and when I heard she was looking to move into a home share, I put in my application, quit my job as a support worker, and became a home share provider." Marilyn is a homebody. She loves being at home with Marnie, watching TV or the comings and goings of the neighbourhood through the front window.  
They weren't planning on supporting a second person in their home, but a few years ago she was approached to provide a temporary home for another person whose previous home share family had retired. That person was David. 
Home sharing is a contracted service with people or families in the community who offer a home for someone with a diverse ability. 
As more people seek this option as a way to meet their goals of independence and autonomy, the need grows to find people who are able to offer them a supportive home.
Bethesda's home share coordinators knew David had interests in common with Marnie and Mike. With a shared love of sports, the outdoors and going fishing and camping, they thought he might be a good match with Marnie and Mike's lifestyle. As it turned it was a great match! And temporary turned into permanent. Marnie says, "David and Mike's shared love of the outdoors has brought them close together. They often go out for the day or on overnight trips. We all enjoy going on camping trips together too."
He has many interests and is involved in a day service program four days a week as well as active in sports through Special Olympics. Marnie and Mike genuinely enjoy supporting him, "we attend his games and cheer him on as we are able. With other activities he will lets us know if he wants to be just dropped off. We respect his space." They support him with selling his artwork too. He creates acrylic paintings, a gifting he seems to have received from one of his aunts. More recently he has taken up making jewelry after being introduced to the craft by one of Marnie's friends.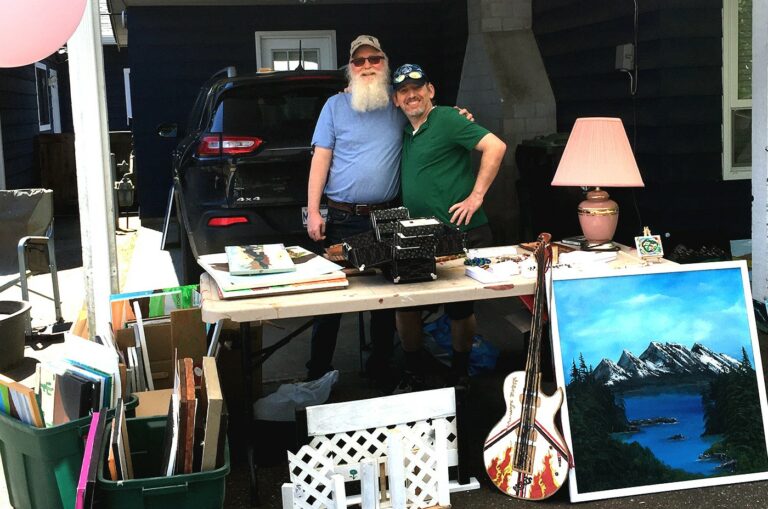 David has now been living in their home for eight years. His routines have woven into the rhythm of their family life. At first, his early morning rising was a surprise to them. Now, as he goes about his morning routines in preparation for whatever activity he has in his day. "The quiet sounds of him preparing for his day early in the morning brings peace and satisfaction. It tells us he's content and happy." Marnie explains.
Being a home share provider has changed their lives. They have less freedom to be spontaneous, but with planning, they can arrange a respite support worker, so they have time off to do errands or outings for just the two of them. She acknowledges home share is a lot of work, but she points out, "it's gratifying seeing his growth and confidence." She shares the example of how David became a cook. "David knew some basic skills, so we built on that. We taught him advanced techniques and we gave him the freedom to experiment and apply what he learned. He's gone from assisting us and following our directions to leading the meals that he has mastered. Some recipes he does with Mike and others he does with me." The pride Marnie feels in David's accomplishments shows up in her voice as she talks about his success.T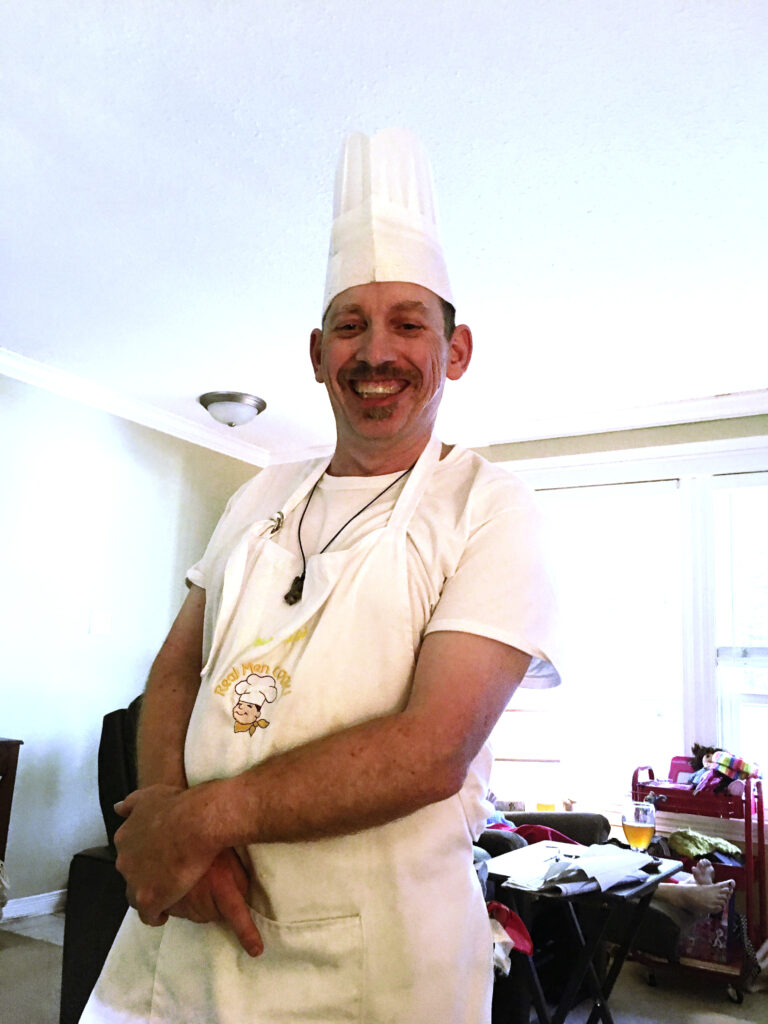 Since being with Mike and Marnie, David has learned to cook with confidence and enjoys preparing meals that Mike, Marnie, Marilyn and himself eat together.
Home share providers receive a monthly payment for their services funded by Community Living BC. But it alone is not enough to sustain the home sharing relationship through the ups and downs of life's seasons: a genuine heart for relationship with others is needed. As Marnie says, "it's not about the money, it's the enrichment of sharing life with another and watching them grow that's so immensely gratifying. What you put in, you get back ten-fold."
She tells a little story that explains the satisfaction they receive from having him in their life. "Here we are on the bleachers watching David playing soccer. It's cold, we're bundled up and I've got my knitting to keep me occupied. I watch him out on the field, intensely focused on his game. I'm proud of him and I feel so wondrously blessed."
Bethesda is seeking people in the Lower Mainland who are able to open their hearts and home to a person with a diverse ability. To find out more about becoming a home share provider, contact Karis or June at 604-850-6604 or send an email to life@bethesdabc.com.