Vedder Terrace is my home and I love it. Every morning when I phone my Dad I have to tell him that I love my home at Vedder Terrace!
The journey of "Embracing your Abilities" is filled with challenges. My dad always said let's try to do it together. And he was right — at age 21, I tied my shoe laces for the first time, and 6 years ago at age 29, I moved into my new home at Vedder Terrace.
My disability journey began at age 14 months with an eye infection and fever resulting in severe frontal lobe brain damage. Miracles and answers to prayers along with so many kind doctors and therapists helped me on my journey. At age 5, we were told there wasn't much hope I would talk or feed myself or be able to use a toilet. My Dad cared for me and decided not give up on me. It was a long journey of uphill climbing… with friends and family always being there.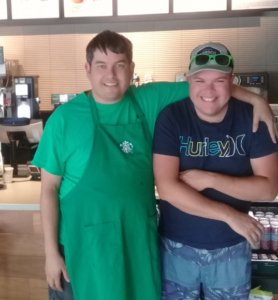 Andrew enjoys meeting his friend, Tim, who works at Starbucks and also lives at Vedder Terrace.
Bethesda was the choice we made for my future. I have found a community and forever home & family. A place where God's love and care is present in every detail of my daily life. I have some difficult days of stress and anxiety. In these moments I am surrounded with staff and a community that understands and assists me. My support workers are always on time and empower my abilities at home and in the community.
Bethesda is more then a place to call home — it's my forever home!!!! Thank you to Jane our manager and Dawna our regional director who always welcome my daily visits to their offices and we have lots of fun chats.
Bethesda is the dream my father had for my future. It's perfect. Vedder Terrace with community meals and our community garden. Lots of friends who have become a family at Vedder Terrace.
I have lived in this same area for 31 years and worked at the Vedder Rd. McDonald's as the lobby clean-up person. My elementary school, middle school and high school are all in my neighborhood. Being at Vedder Terrace allows me to live in the most beautiful home in my neighborhood.
My parents have no concerns for my future and know I will always be supported and cared for.
Vedder Terrace – embracing and empowering abilities of adults with diverse abilities.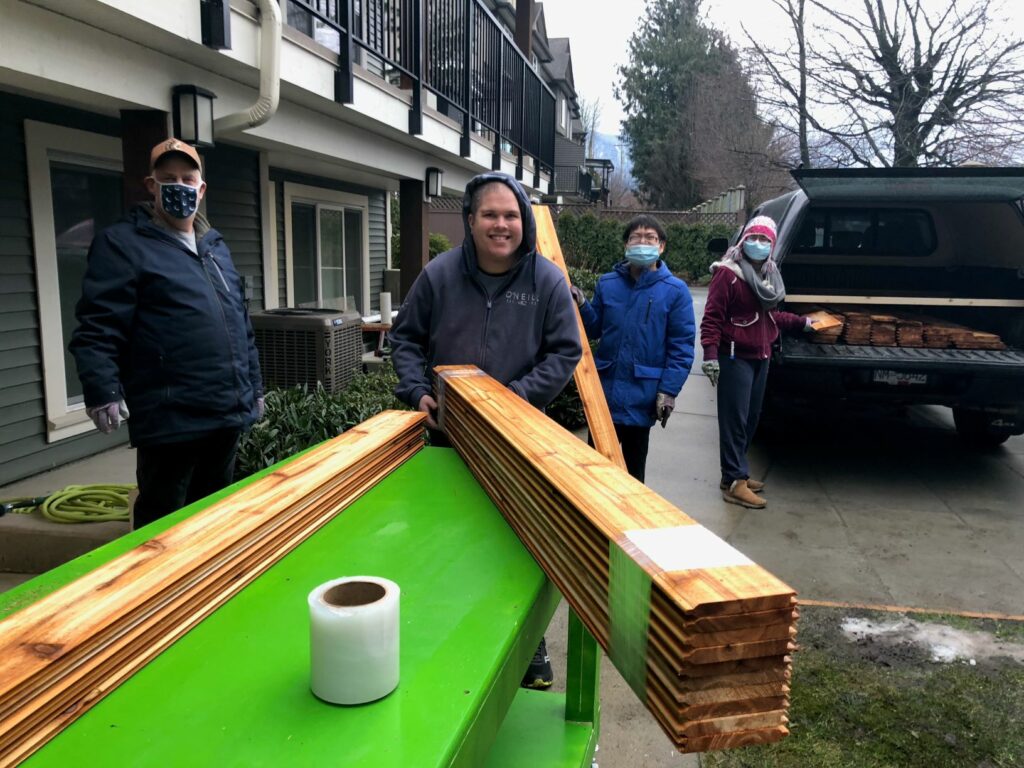 Andrew was involved in setting up a woodworking workshop at Vedder Terrace in 2021. He learned woodwork skills and made the work benches as well as various projects, such as planter boxes and bird houses.
Andrew Toews is a resident of Vedder Terrace, a Bethesda intentional community in Chilliwack for people of all abilities.